A regular question we receive is, "What's the difference between an escort card and a place card?" The answer is actually very simple.  Your escort card will direct you to the table where you will be enjoying dinner.  The place card will direct you to the exact seat.  Place cards are often at an event that is a little more formal.  Often, we see the head table has place cards, but not the rest of the guest tables.  We love designing escort card displays, they are often the first introduction to the wedding!  Here are a few fun ideas that we've created in the past!
You can keep it very simple!  We love pillar candles and simple flat cards with gorgeous calligraphy like this display at the Langham Hotel.  Photo by Clary Pfeiffer Photography. 
Make it historical.  Our vintage card display box was used at the Chicago Cultural Center, a former library.  We added lovely foliage and blooms for an overgrown garden touch.  Photo by Olivia Leigh.
This was a favorite of ours.  The escort table at Galleria Marchetti was designed after a European flower market.  Clusters of blooms and individual stems were packaged, and at the end of the evening they were the take away gift for guests!  That's our kind of send off gift!  Photo by Artistrie Co.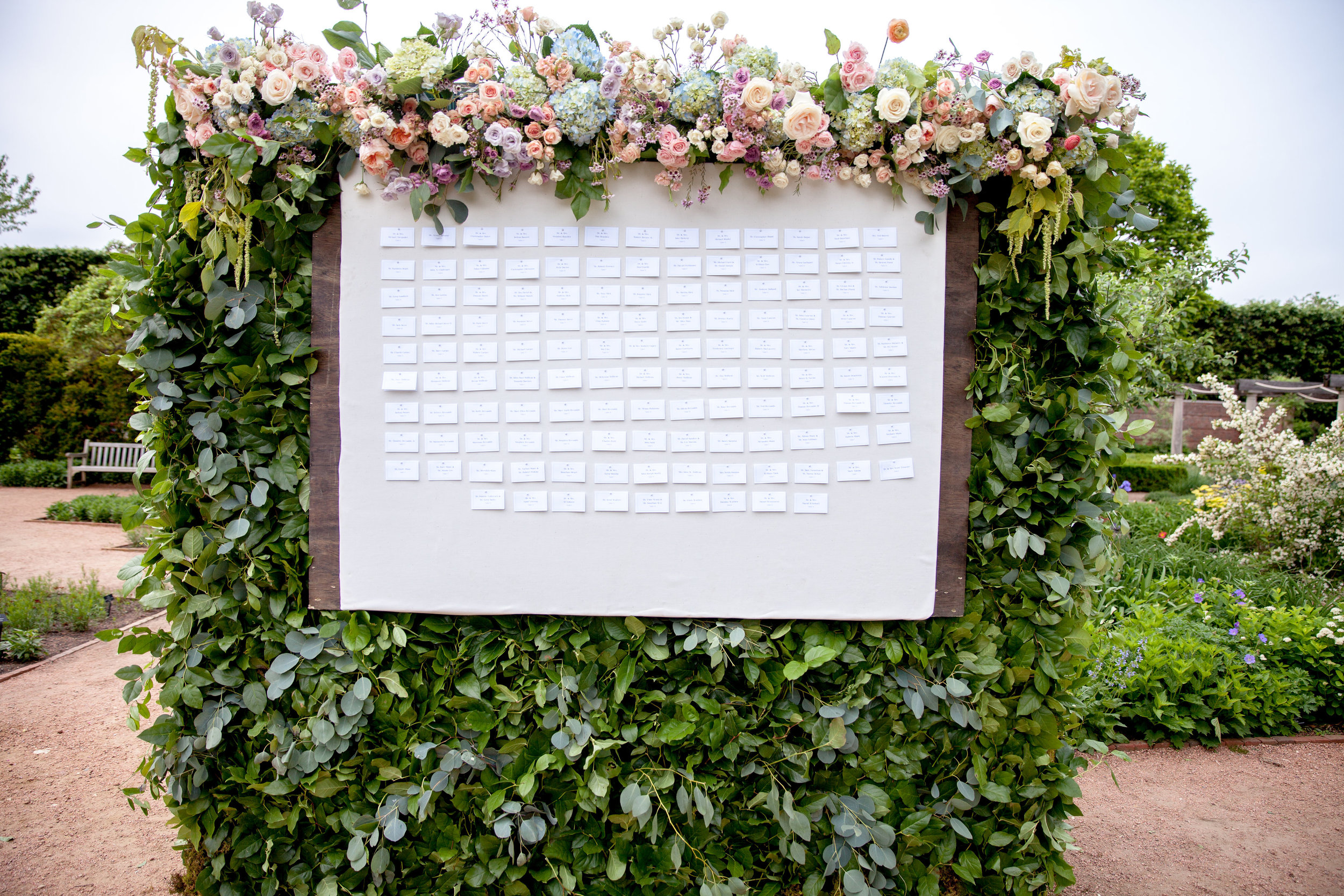 One of our most popular escort displays is our greenery and floral wall.  This versatile wall can be created with foliage, floral, a variety of fabric and more.  We've used velvet and lovely ornaments around the holidays, and boxwood as well.  This design fits so well in many locations, but especially the Chicago Botanical Gardens.  Photo by Annie Steele.
Garden elegance is a term we often hear, and feel as though this design perfectly captures the feeling.  Golds, greens and lots of glow created a beautiful welcome for guests at the Ritz Carlton.  Photo by Amanda Megan Miller. 
And finally, the classic chalkboard design!  A welcome that will never be old.  It can be rustic or a little more polished.  It was the perfect entrance for this rehearsal dinner at Summer House.  Photo by Kina Wicks.